Day 1 (Monday, August 4)
After long globetrotting journeys, Hiro and Hilary arrived in Prague to a kind welcome from the World Yo-Yo Contest Organizer's welcoming committee. We spent the day getting over our jet-lag, wandering the city and checking out Prague's two finest purveyors of throw gear, yoyostore and SLUSNY. Meeting all the local players was definitely the highlight of our day!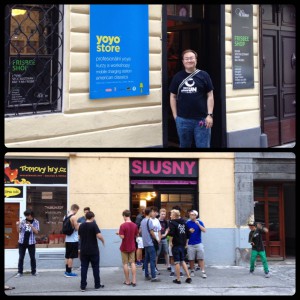 Day 2 (Tuesday, August 5)
Up bright and early, we enjoyed a European hotel breakfast and Hiro headed off to yoyostore for some pre-contest work, while Hilary jumped on the official WYYC tour of Prague. Our tour guide took us to some of the less visited spots of the city including the Zizkov Television Tower, the Vysehrad and the Basilica of St Peter and St Paul, a stunning neo-Gothic church with incredible art nouveau frescoes.
We met back up for dinner at a local mess hall for traditional Czech dinner of steak tartare. Shinya arrived in the early evening and joined up with the rest of the C3 team for dinner and practice.
Day 3 (Wednesday, August 6)
Wednesday saw an early morning, with Hilary joining the second tour and Hiro back to work for the contest. On the tour we visited Prague's greatest hits, including the Astronomical Clock, the Jewish Quarter and Prague Castle, the latter of which took us through a scenic, winding hillside path that will not soon be forgotten. After the tour, we all met up again at the pre-registration event at the Fusion Hotel, which was quite possibly the coolest contest pre-reg party ever. Great thanks to the Czech crew for the fun time so far!!
Stay tuned for our coverage of Day 1 of the 2014 World Yo-Yo Contest, coming up soon!