4A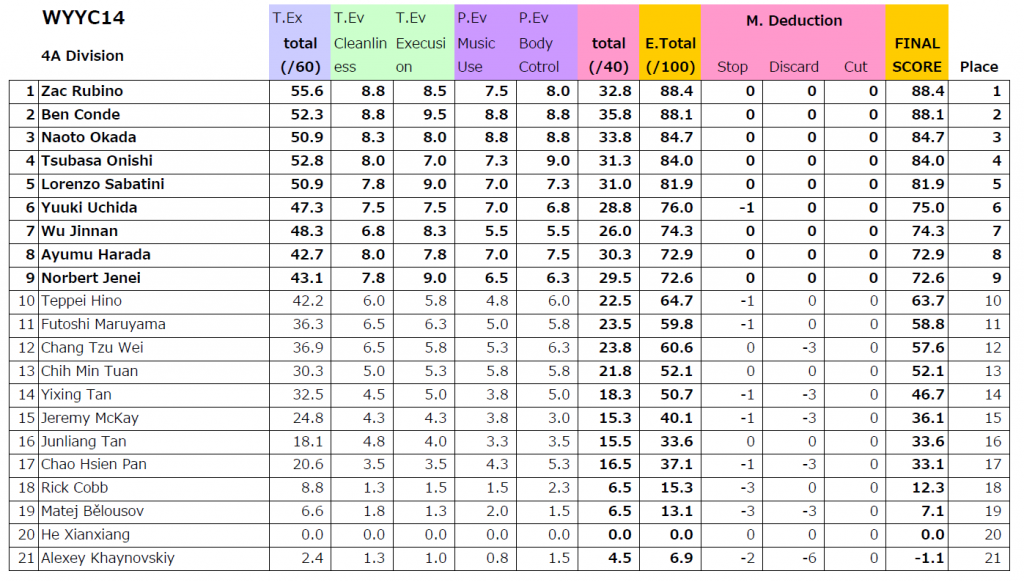 1st Zac Rubino
2nd Ben Conde
3rd Naoto Okada
4th Tsubasa Onishi
5th Lorenzo Sabatini
6th Yuki Uchida
7th Wu Jinnan
8th Ayumu Harada
9th Norbert Jenei
Top 9 go to final. Congratulations!
10th Teppei Hino
11th Futoshi Maruyama
12th Chang Tzu Wei
13th Chih Min Tuan
14th Yixing Tan
15th Jeremy McKay
16th Junliang Tan
17th Chao Hsien Pan
18th Rick Cobb
19th Matej Bělousov
20th He Xianxiang
21th Alexey Khaynovskiy
3A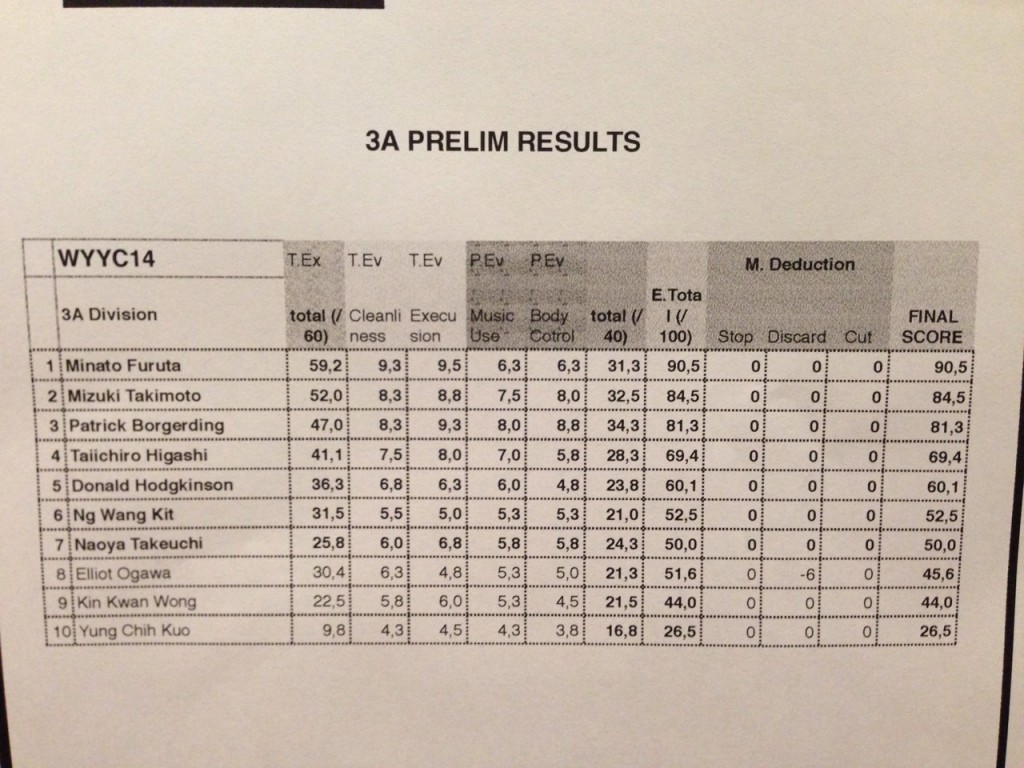 1st Minato Furuta
2nd Mizuki Takimoto
3rd Patric Borgadin
4th Taichiro Higashi
5th Donald Hodgkinson
6th Ng Wang Kit
7th Naoya Takeuchi
Top 7 go to final. Congratulations!
8th Elliot Ogawa
9th Kin Kwan Wong
10th Yung Chih Kuo
5A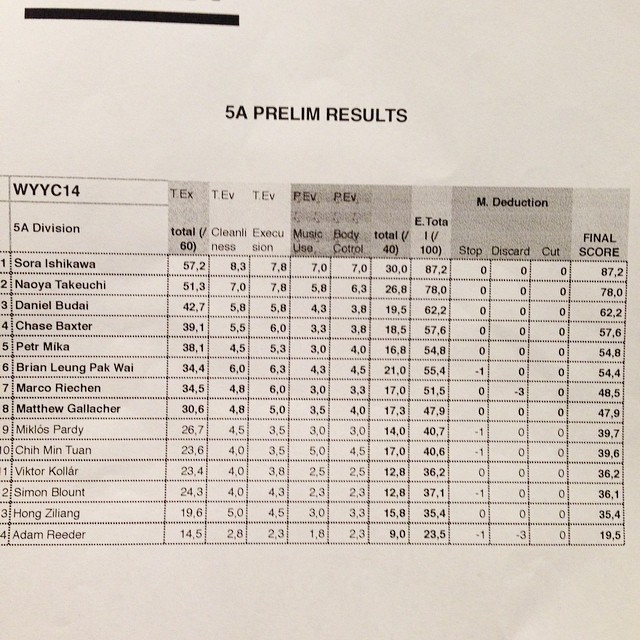 1st Sora Ishikawa
2nd Naoya Takeuchi
3rd Daniel Budai
4th Chase Baxter
5th Petr Míka
6th Brian Leung Pak Wai
7th Marco Riechen
8th Matthew Gallacher
Top 8 go to final. Congratulations!
9th Miklós Pardy
10th Chih Min Tuan
11th Viktor Kollár
12th Simon Blount
13th Hong Ziliang
14th Adam Reeder
1A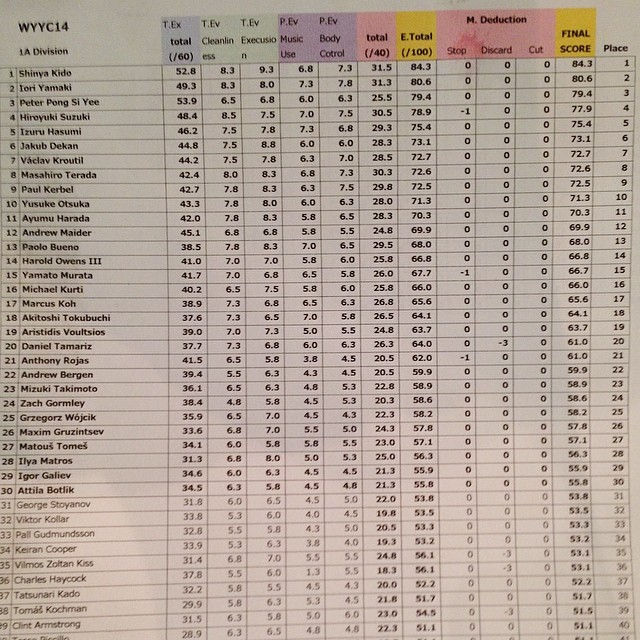 1st Shinya Kido
2nd Iori Yamaki
3rd Peter Pong Si Yee
4th Hiroyuki Suzuki
5th Izuru Hasumi
6th Jakub Dekan
7th Václav Kroutil
8th Masahiro Terada
9th Paul Kerbel
10th Yusuke Otsuka
11th Ayumu Harada
12th Andrew Maider
13th Paolo Bueno
14th Harold Owens III
15th Yamato Murata
16th Michael Kurti
17th Marcus Koh
18th Akitoshi Tokubuchi
19th Aristidis Voultsios
20th Daniel Tamariz
21th Anthony Rojas
22th Andrew Bergen
23th Mizuki Takimoto
24th Zach Gormley
25th Grzegorz Wójcik
26th Maxim Guruzintsev
27th Matouš Tomeš
28th Ilya Matros
29th Igor Galiev
30th Attila Botlik
Top 30 go to semi-final. Congratulations!
31th George Stoyanov
32th Viktor Kollar
33th Pall Gudmundsson
34th Keiran Cooper
35th Vilmos Zoltan Kiss
36th Charles Haycock
37th Tatsunari Kado
38th Tomáš Kochman
39th Clint Armstrong
40th Tessa Piccillo
41th Erik Bjork
42th Tomáš Bubák
43th Piotrek Śmietana
44th Wong Wai Sheuk
45th Yury Sergachev
46th Ian Loh
47th Kin Kwan Wong
48th Wong Wing Hang
49th James Reed
50th Yung Chih Kuo
51th Gabor Boldog
52th Mateusz Mendyka
53th Jensen Kimmitt
54th Jan Paprštein
55th Yixing Tan
56th Robert Kučera
57th Adam-David Hutchinson
58th Mimi Thian
59th David Kreibich
60th Matyáš Racek
61th Gabriel Szalay
62th Ryosuke Iwasawa
63th Louis Whyte
64th Anthony Destremx
65th Mihai Suster
66th Roy Hadad
67th Nerdi Meir
68th Adrian Koniecki
69th Samuel Malik
70th Cvetan Stanishelski
71th Marcin Fresel
72th Kenji Nakatsuka
73th Ryan Jian Liang Lim
74th Danilo Packer
75th Thomas Caen
76th Shahar Matityahu
77th Skip Skip
78th Riccardo Fraolini
79th Nicolò Rossetto
80th Yona Serber
81th Malte Voss
82th Juan Francisco Mateo Cuesta
83th Danny Martucci
84th Omri Ben Zion
85th Ori Weiss
86th Martin Siegrist