HamaCon was an amazing two day event! The contest was put on by Shinya Muraki. The contest ran smoothly with not only great yo-yo freestyles, but also great sponsor shows. Those were put on by the sponsors of the event. They got stage time to promote their business. There was yo-yoing, spin tops, diabolo, poi, and even a juggling dragon.
The first day of the contest they had beginner division for yo-yoing and diabolo, over 40 division, women's division, team division, and diabolo finals. The beginner divisions were a lot of fun to watch. There was a lot of great young talent. I was surprised to see how skilled the young kids were, with some of the competitors being only 7 or 8 years old. The over 40 division was also interesting to witness. It was nice to see a lot of the parents of the kids competing get on stage and compete themselves.  I am so happy to see that the event had so many women competing in the women's division. I was impressed at the talent they had at this contest.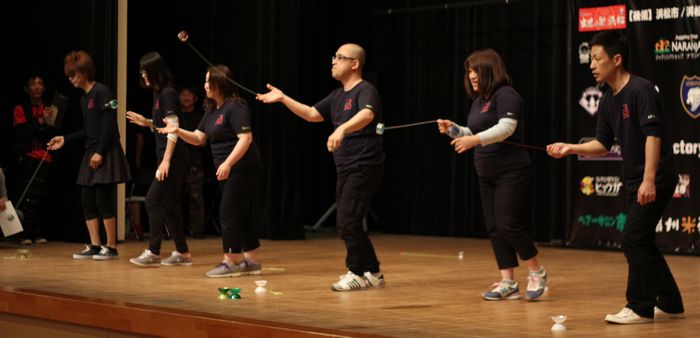 Next was the team division, where groups of yo-yoers compete together. It was very cool to see teams working to together to yo-yo, and was very different compared to normal competition. To wrap up the first day of the contest they had diabolo finals. I have not watched a lot of diabolo freestyles in the past. I now regret that I haven't. The diabolo finals were so crazy to watch. They had players doing big and technical tricks with 1 and up to 3 diabolos at one time. It was mind blowing to see in person. This division really inspired me and gave me a lot of new trick ideas.
Day two started with 1A freestyles there was a lot of great upcoming talent in this division. The division was filled with young kids that not only had great tricks but also had very clean freestyles. Next was the 2A division. 2A was excellent with a lot of players with crazy tricks. Day two finished with the X division.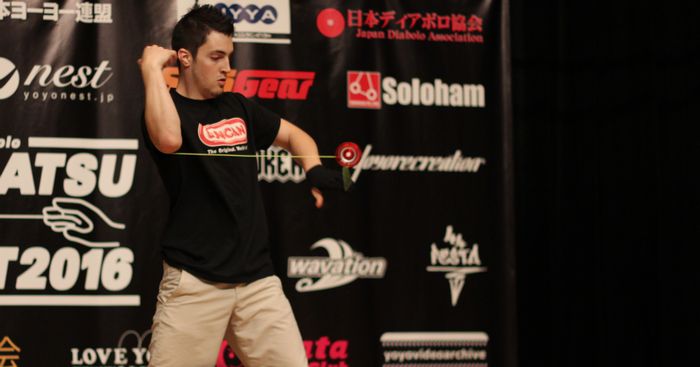 The X division is 3A, 4A, and 5A divisions all competing against each other. I competed in this division. I had so much fun on stage. The level of competition was insane. There were so many big name players with great, difficult tricks. I wish I could compete against this level of skill all the time. I think it would make me a better yo-yoer.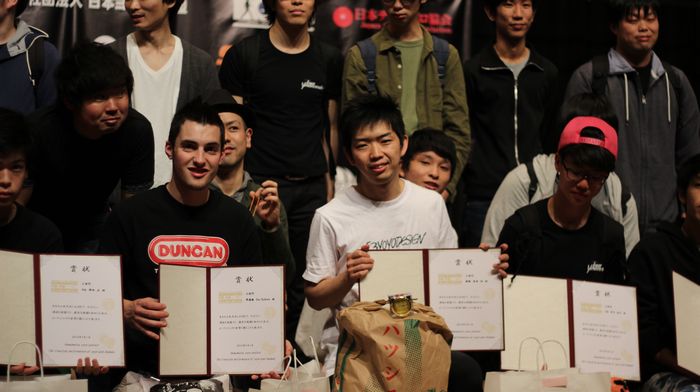 Rei Iwakura won this division with a nearly flawless routine. He also had great music use and put on a show for the crowd. He ended his routine with his signature soloham tricks. That left the crowd wanting more.
44 FESTA had a booth and was holding mini contests. They had yo-yo wrestling. Yo-yo wrestling played like this: you have two people each pick a yo-yo at random from a box. Then they both throw the yo-yo and try to hit the other person's yo-yo until it stops spinning. The last yo-yo spinning wins. They also had a contest to see who could do the most of the same trick in one throw. They had tricks like suicides, boingy-boingy, Eli hops, and offstring whips.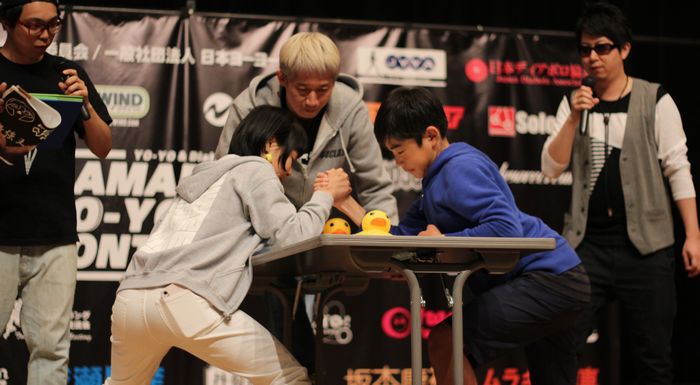 The last event they had was an arm wrestling contest. The crowd really liked this event. There were some good match ups and even a broken arm.
The winners of all the divisions received a prize bag with yo-yos in it, a certificate of their achievement, and a giant 66 pound bag of rice. One of the sponsors of the event was a rice company and donated a lot of rice.
At the very end of the contest the organizers did a traditional Japanese event called "Mochi Throwing." They stood on the contest stage and threw a ton of individual packaged mochi (soft rice cakes) into the crowd. I caught enough to fill a grocery bag. The mochi was good but even a small piece was really filling. I had so many leftover that I divided them up with my friends. Mochi throwing was a fun new experience for me!
I had a great time at this event. It was amazing to see such a high level of competition for kids as young as 7 and parents over 40. If you are looking for a fun contest to go to with a very high skill level that will blow your mind, go to Hamamatsu Yo-Yo Contest.