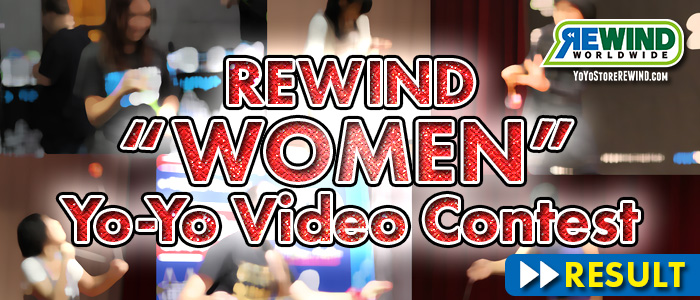 We also have the results for the REWIND "WOMEN" Yo-Yo Video Contest!
With more and more women playing yo-yo worldwide, enough for a Women's Division to be held at EYYC every year and for the first time at the World Yo-Yo Contest this year, we thought the next logical theme to follow our Over 40 video contest was one just for women. We received 20 total entries (+ 2 non-qualifying entries) from 11 countries and territories: Japan, Korea, China, Hong Kong, Taiwan, Malaysia, Indonesia, Brunei, Czech Republic, Spain, United States of America. Wow!
Huge thanks to everyone who participated!!
"That person is great," "no, this person too!" When you watch each video you'll notice like we did that everyone was so good. We had an incredibly difficult time deciding the winners! Come check out the results below and see what we mean!
[Grand Prize Winner]
Prize: A free yo-yo of choice at REWIND (under $200 USD) + Special Award Prizes
REWIND Women Yo-Yo Video Contest – Leung Ming Lim Marilyn
Leung Ming Lim Marilyn from Hong Kong
Not only does she have stunning technical skills, but her video excels with good lighting, camera work, careful presentation of tricks, music, scenery, etc. It has it all. You can tell she put a lot of thought into atmosphere creation, and that made her video a real work of art.
In the video Leung Ming Lim Marilyn used a C3yoyodesign Apparition.
[Special Award]
Prize:
REWIND Video Contest special edition wooden yo-yo
REWIND apparel
Official Regional Contest Entry Fee
– REWIND will pay your competition entry fee for one Division at one official regional contest in your appropriate country/region.
– You may choose which Division you wish to enter (1A-5A)
– You must wear your REWIND apparel on stage.
– The entry fee is non-transferable. If you win this award and choose not to compete we will not provide the fee.
– If you choose not not compete we will still send you the other prizes (Video Contest special yo-yo and REWIND apparel).
REWIND Women Yo-Yo Video Contest – Hobbit Wang Xiao Wen
Hobbit Wang Xiao Wen from Taiwan
In the video she plays 1A, 4A and 5A, and is skilled at all of them!
Subtitles appear in the video listing her titles of 3rd place in 1A at 2014 Taiwan Yo-Yo Contest, as well as 11th in 5A at Asia Pacific Yo-Yo Championships. This video is even more evidence of her abilities.
Her video itself begins as she gets on a train and then goes through each play style, using different locations and shooting methods. We enjoyed the journey!
REWIND Women Yo-Yo Video Contest – Hou Yimin
Hou Yimin from China
It's rare to find a woman anywhere in the world that is THIS good at 2A. Not only focusing on loop and wrap tricks, but she has even mastered two-handed Shoot the Moon!
No woman has won 2A at the World Contest since Jennifer Baybrook (now a Yo-Yo Master) took the title in 1999. We really hope Hou Yimin will keep competing and go for the gold at the World Contest in the future!
REWIND Women Yo-Yo Video Contest – Betty Gallegos
Betty Gallegos from Mexico
Betty is a member of Team YoYoFactory Mexico.
She easily pulls off tricks at a fixed angle, many skillful and speedy tricks in a row, and does 2A and 5A in addition to 1A. We didn't feel bored for a second while watching her video; it was like the two minutes went by too quickly.
Betty used YoYoFactory's Space Cowboy, Supernova, and Loop 1080 in her video.
REWIND Women Yo-Yo Video Contest – Reia Torita
Reia Torita from Japan
Reia hails from REWIND's local area and we see her often at local practice meetings and events, so we knew from the beginning that she was skilled, but we did our best to judge her video in an unbiased way. Our suspicions were confirmed. She is great!
Her video has several changes in locations and shooting methods and has a very complete feeling altogether.
Reia used C3yoyodesign's Krown and YoYoJoker's Vortex in her video.
Congratulations to all of our winners!!
We will be contacting each of you soon to sort out your prizes.
You can see more information about this video contest here.
You can see all of the entries from this video contest here.
By doing a Women only video contest we confirmed that there are many great lady players throughout the world. However, though their numbers are increasing, overall there are still relatively few compared to men in the yo-yo community. We hope to see more and more lady players in all countries in the future!
Related to that, we hope that these videos might be an inspiration for women to pick up yo-yoing and an encouragement to current lady players to keep up the good fight!
We also noticed that several players included the words "See you in Tokyo!" in their videos, so we're very much looking forward to meeting all of you at the World Yo-Yo Contest 2015 in Tokyo next year.
Finally, we definitely plan on doing a second round of our Women Only Yo-Yo Video Contest (and Over 40, too!) in the future, so you can hone your skills and look forward to another chance to enter! Hope to see you all next time!!