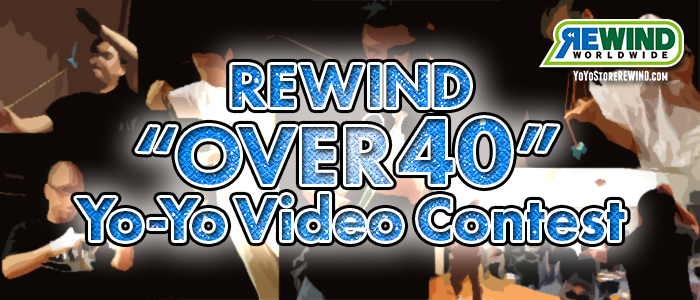 The results are in for the REWIND "Over 40" Yo-Yo Video Contest!
This was our first try at a video contest exclusive to players over the age of 40, so we figured we'd be lucky to have five or so entrants. That's what we'd hoped for anyway. All in all we received 13 entries! Wow! Thanks for participating, everyone!!
When judging the contest we went back and forth discussing what we loved about each player and had a very difficult time deciding the winners. You were all great! Check out the winners below and see all of their wonderful videos.
[Grand Prize Winner]
Prize: A free yo-yo of choice at REWIND (under $200 USD) + Special Award Prizes
REWIND "Over 40" Video Contest – Toshiaki Awatsu
Toshiaki Awatsu from Japan
In the video he pulls a onedrop Cascade from his bag and proceeds to impress us with his complicated string tricks. His skills put him above the rest and had all REWIND staff exclaiming "he's so good!" We also thought the variation he put into his shooting locations and camera angles was noteworthy.
[Special Award]
Prize:
REWIND Video Contest special edition wooden yo-yo
REWIND apparel
Official Regional Contest Entry Fee
– REWIND will pay your competition entry fee for one Division at one official regional contest in your appropriate country/region.
– You may choose which Division you wish to enter (1A-5A)
– You must wear your REWIND apparel on stage.
– The entry fee is non-transferable. If you win this award and choose not to compete we will not provide the fee.
– If you choose not not compete we will still send you the other prizes (Video Contest special yo-yo and REWIND apparel).
REWIND "Over 40" Video Contest – Tomonari Ohba
Tomonari Ohba from Japan
The scene is set with Kiyoshi Kawamura's entry video playing in the background and turns into a video that tells a good story. Stick around at the end where he hits a three fingered suicide catch.
REWIND Over 40 Video Contest – Rick Cobb
Rick Cobb from the USA
A staple on the American west coast contest circuit, Rick is the eldest entrant in this video contest. No stranger to yo-yo competition, Rick has enough skill to have entered the 4A division at the World Yo-Yo Contest.
REWIND "Over 40" Video Contest – kiyoshi kawamura
Kiyoshi Kawamura from Japan
We think he may just be the best off string player, over 40, in the world.
Recently he entered HamaCon 2014 and we hope he keeps entering contests in the future.
He also entered this video contest under the name Zundoko Kiyoshi with "Working Guy" as his video theme. Kiyoshi is a great guy that continues to support the yo-yo community in many ways, including running a yo-yo practice meeting, working as a staff member at contests, and more. It really shows in his video!
REWIND "Over 40" Video Contest – Minoru Arai (Arapon)
Minoru Arai (a.k.a. Arapon) from Japan
In his video he is shown traveling and playing yo-yo with people he meets along the way.
This is exactly what we mean when we talk about "using yo-yo as a communication tool."
In the video, everyone smiling and having fun really made an impression on us.
Congratulations to all of our winners!!
We will be contacting each of you soon to sort out your prizes.
You can see more information about this video contest here.
You can see all of the entries from this video contest here.
We had two goals in mind when we started this contest.
At yo-yo contests, most of the participants are in the 10-30 year-old range. Though there are many adults playing yo-yo and practicing regularly, it seems that many feel hesitant to enter a yo-yo or video contest…
We wanted to create an opportunity just for those adults to participate in!
Furthermore, we hoped that not just the entrants of the contest, but viewers just like them, might be influenced by their videos. We hoped that people would think, "There are adults over 40 who are this amazing at yo-yo!" and be encouraged and motivated to play yo-yo too.
Looking at the results we feel that both goals have been accomplished, and we're definitely glad we held this video contest.
In the future we plan to hold a second round of the Over 40 Video Contest. People who didn't enter this time will have a chance to participate too! We hope you'll be practicing and looking forward to it!