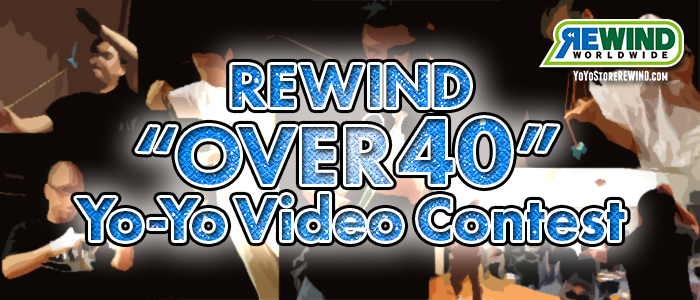 REWIND "Over 40" Yo-Yo Video Contest
Our next video contest is…
The [REWIND "Over 40" Yo-Yo Video Contest]!
One of the most wonderful things about yo-yo is that it's an activity that can be enjoyed by people of all ages. Yo-Yoing is most definitely NOT just for kids. We thought it would be fun to see what our adult players can do, so this time the video contest is just for those 40 years old and up!
Not only do we like to see adults playing yo-yo, but we like it even more to see them compete on stage! As a Special Award this time, we will sponsor the chosen winner for one official regional contest and pay their competition entry fee for one division.
(Of course, even if you win the Special Award, whether you choose to compete or not is up to you!)
Sound good? Come check out the details below!
[Rules]
– The featured yo-yo player must be at least 40 years old or older (the photographer and/or video editor may be of any age. Also, people under the age of 40 may appear in the video, but the main focus of the video should be on the 40+ player).
– You may use yo-yos by any maker in your video.
– You may do any style of yo-yo play you wish (1A, 2A, 3A, 4A, 5A, or any mixture of styles, or any style not listed here)
– The entry period is from September 16th until October 19th, 2014.
– The video contest judges (REWIND Staff) will be looking at the level of difficulty of tricks, originality, composition of the video, etc.
– The Special Award will be voted on by the judges, and may or may not have any relation to the above judging criteria.
– After uploading your video, fill in the contest entry form with your full name (if you instead wish to go by a nickname, please also input that into the entry form), email address, and the link to your video on YouTube.
[Video Guidelines]
– Upload your video to YouTube and set it to the "public" setting (please disable the 3D setting).
– The video must be 2 minutes or less in length.
– Please insert the video contest logo at the very beginning and end of your video. You can download the logo here: [ 1920×1080 / 1280×720 ]
– Please title your video "REWIND Over 40 Video Contest – (Entrant's name/nickname)"
*The entrant's name or nickname must should be in English alphabet letters.
– Please tag the video with "REWIND" and "Yo-Yo".
– Please post this link in the video description: http://www.yoyostorerewind.com
– By submitting a video to the contest, you acknowledge that we may be permitted to introduce and/or use your video on our main website, Twitter, Facebook, or any other social media or promotional platforms.
[Prize]
Grand Prize (one winner): A free yo-yo of your choice currently on sale at REWIND (under $200 USD)
Special Award (one or more winners):
– REWIND Video Contest special edition wooden yo-yo
– REWIND apparel
– Official Regional Contest Entry Fee
— REWIND will pay your competition entry fee for one Division at one official regional contest in your appropriate country/region.
— You may choose which Division you wish to enter (1A-5A)
— You must wear your REWIND apparel on stage.
— The entry fee is non-transferable. If you win this award and choose not to compete we will not provide the fee.
— If you choose not not compete we will still send you the other prizes (Video Contest special yo-yo and REWIND apparel).
[Winner Announcement]
The video contest winners will be announced on Store Blog near the end of October.
You've got until October 19th. We hope to see your videos soon!
Entry
Closed