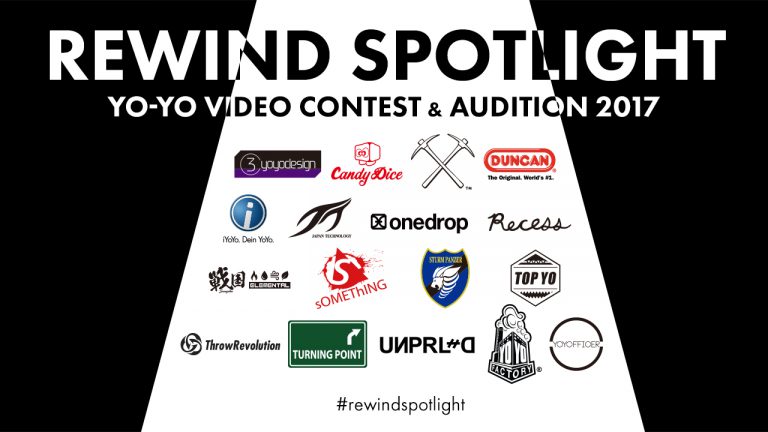 Our new video contest event "REWIND SPOTLIGHT" is here!
This is a two-minute video contest with an element of audition.
– We will have a Special Award for each video contest Sponsoring Brand.
– If the brands find someone they are interested in, they may sponsor the player.
It's not promised that all the sponsors will sponsor someone for sure. However, all sponsoring brands will watch all the videos to look for their video contest winner and potential members.
Each brand seeks different talent and skills. Please appeal to them in your own way.
Of course, this is not just an audition, but primarily a video contest. Even if you are not interested in finding a sponsor or you are already sponsored by someone, you can still enter the video contest and win the prize from the brands!
Even if you're not a super skilled player, you have many other options. Show us a fun video, new discoveries that you made while playing, interesting ways to show certain tricks, or your cool video editing skills. Anything goes! It's possible that the sponsoring brands may choose their awards based on any of those things, not just who they think is the best player or who they want to sponsor. If you're shy you don't have to enter as an individual player; why not submit a video as a team, family, group, or yo-yo club!
Also, even if you are already sponsored by a brand, you can still enter the video contest! If that's the case, please make sure you state your sponsored status in the submission form and in your video's description.
The submission deadline for all entries will be on September 10th.
We'll be waiting for your video! 🙂
Sponsors
Participant Rules
– Anyone may enter!
– You may use yo-yos by any maker in your video.
– You may do any style of yo-yo play you wish (1A, 2A, 3A, 4A, 5A, or any mixture of styles, or any style not listed here)
– The entry period is from August 1st until September 10th, 2017 (Japan Time).
– The Sponsoring Brands will be the judges for their own awards.
– After uploading your video, fill in the contest entry form with your full name (if you instead wish to go by a nickname, please also input that on the entry form), email address, and the link to your video on YouTube.
Video Guidelines
– Upload your video to YouTube and set it to the "public" setting (please disable the 3D setting).
– The video must be 2 minutes or less in length.
– Please insert the video contest logo at the very beginning and end of your video. You can download the logo here: 「1920×1080」  「1280×720」
– Please title your video " [Yo-Yo] REWIND SPOTLIGHT – (Entrant's name/nickname)"
*The entrant's name or nickname must be in English alphabet letters.
– Please tag the video with "REWIND", "YOYOUSA" and "Yo-Yo".
– Please post these links in the video description: http://www.yoyostorerewind.com , http://www.yo-yo-usa.com . Please also write your favorite brand among the Sponsoring Brands and your message to the Sponsoring Brands (it can be the same as the text you you entered in the submission form).
– By submitting a video to the contest, you acknowledge that we may be permitted to introduce and/or use your video on our main website, Twitter, Facebook, or any other social media or promotional platforms.
Sponsor Comments
Sturm Panzer
Extra points for showing Sturm Panzer yo-yos!
Extra points for showing YoYoJam yo-yos!
There's no need to play yo-yo either. Displays, modding, or any new way to enjoy yo-yos is fine.
No need to be difficult tricks or combos, but a fun or enjoyable video will make a great impression!
Throw Revolution
We are looking for a Revolutionary player who has the desire to become Champion. One who is hardworking and never gives up. After all, hard work always pays off at the end of the day.
Unparalleld
Focuses not only on yoyo movement, but string movement and body movement.
Someone that has the mindset to expand their tricks beyond their usual style.
Recess
Be yourself and do something different. Being like everybody else is the same as being nobody.
YOYOFFICER
We are looking for players like Ryan Gee(USA) who have unique tricks style.
Also, we looking for new players good enough for competition.
We want to see a new fingerspin tricks by using Yacare or other fingerspin yoyo and just video just using Kilter3.
CLYW
CLYW is looking for players who push the boundaries, players with a unique voice and vision, players who redefine the community through their actions and contributions. CLYW is looking for more than just great tricks; we are looking for great people.
AXE Japan
AXE is here to support people who make their own character and strengths into their own style and fashion. This time, especially, we would love to support players who have a unique performance and move people's hearts.
Onedrop
We seek players who express their own style and also who display a onedrop-ness. Most importantly, the player must understand what "being sponsored" means. It is not just competing in contests but also making clip videos and participating in yo-yo clubs to help new players.
Japan Texhnology
We value players who understand our important brand image and express that through their video.
We appreciate all players who help to spread the JT image to the world through this video contest.
Sponsor Brand Banners
Some of the sponsor brands agreed to allow the participants to use their logo on the video for this video contest. However, their permission is ONLY for use in this video contest. Please DO NOT use the logo data for any other purpose.
CLYW (Black Back / White Back)
Throw Revolution (Black Back / White Back)
Prizes
[Sponsoring Brand Special Award] At least one per Brand
Yo-yo(s) from the brand, etc.
[Lucky Draw] A few winners
A few winners will be chosen by a random drawing from among all contest participants.
*You may be contacted by sponsored brand(s) about an offer of sponsorship.

Winner Announcement
The video contest winners will be announced on our store blog and social media channels near the end of September or Early October.
Entry Form
Closed