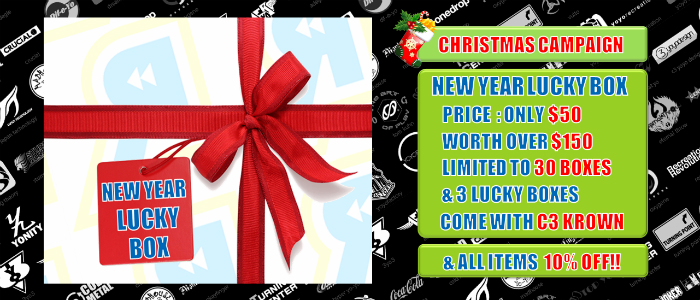 This is it, the final event of the season!
Japan has a special year-end tradition called the lucky bag (fukubukuro) where merchants fill bags with goods and sell them for huge discounts. The only catch is you don't know what's in your bag until you open it! REWIND is continuing this Japanese tradition and offering our lucky boxes to the entire world, filled with a mystery selection of yo-yos and related goodies. This year we're limiting the quantity of our Lucky Boxes to 30 only. For the price of $50, you'll receive over $150 worth of merchandise. Only one thing is guaranteed, you are getting lucky! But wait, there's more! Three VERY Lucky Boxes will contain a C3yoyodesign Krown, REWIND staff and 1A World Champion Shinya Kido's signature model!!
In addition to the special Lucky Boxes, we've applied an automatic 10% discount to everything store-wide for 48 hours only! Whether it's a for a last minute or late gift, or something for yourself, don't miss this last chance to get a discount on all the yo-yo goods you need to carry you through to the New Year. Sale starts at 0:00 midnight, December 24th, and ends at 0:00, December 26th PST (California Time).
Clearance sale is going on same time! Don't miss them!
You also might consider adding KittyString (Philippines Charity String) x10 [All Sales goes to Japan Red Cross] to your cart to help support the recovery from Typhoon Haiyan in the Philippines (10% discount does not apply to this item).
It's the end of the year and the clock is ticking. Don't miss out on these last deals!