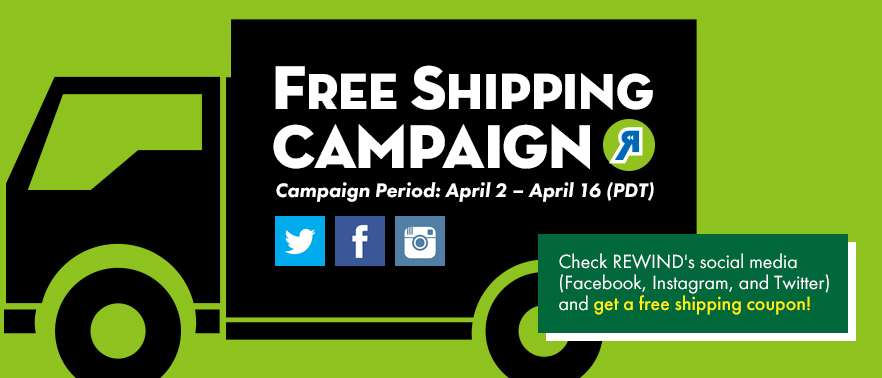 Check REWIND's social media (Facebook, Instagram, and Twitter) and get a free shipping coupon!
Are you subscribed to REWIND's social media feeds? Make sure you don't miss any of our great deals follow and subscribe now! As an incentive to follow, we'll be posting coupon codes for free shipping on all of our sns accounts (Facebook/Instagram/Twitter).
You can use the code as many times as you want during the campaign period. Enter the coupon code on the shopping cart page, and enjoy your free shipping at REWIND!
Coupon Code: Find the code on our Facebook, Instagram, and Twitter accounts!
Campaign Period: April 4 – April 16 (PDT)
*The free shipping applies only to "International ePacket," not "EMS." If you choose EMS for your shipping option, the free shipping coupon will not be applied.
*If the order is under $30 and only contains parts, strings, and accessories, we will ship with Airmail (no tracking, no insurance).
*Due to system requirements, we are applying a $0.01 discount for everyone who uses this coupon code.
If you use the coupon code, even if you choose EMS, we will ship your order with ePacket or Airmail. If you want us to use EMS please do not type in the coupon code.