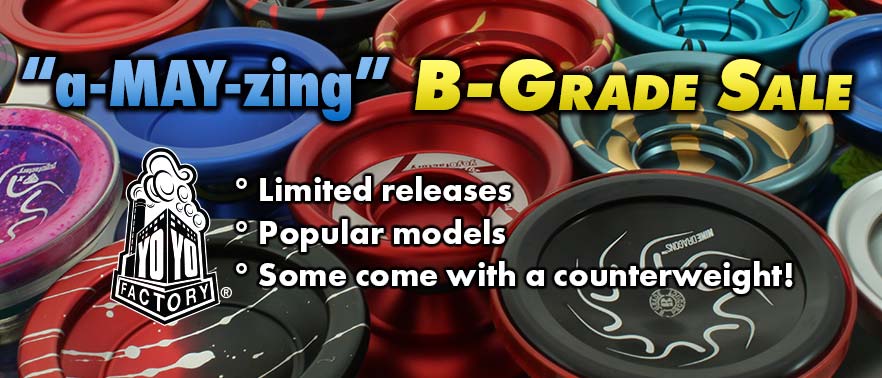 Our "a-May-zing" YYF B-Grade sale is a huge hit every year, so you'd better believe we're on it this year too!
In addition to popular mainstays, this time we even have some limited and rare models, including ones that come with a counterweight! What better way to get set for #5AMay?
Sale starts on May 1st at 00:00 (Japan Time)!
Don't miss this rare occasion to grab some great YYF yo-yos at a bargain price!
"What is B-Grade?"
In 2009, YoYoFactory started selling a selection of "outlet" items at events. Calling them "B-Grades," that name has spread throughout the yo-yo world, and is now a common term.
At B-Grade sales, you can pick up excellent yo-yos with mild imperfections, discolorations, marks or scratches. These make them less desirable as finished products, but they're still great yo-yos and totally playable, meaning you can get a high quality throw for a bargain price. As a result, B-Grade sales have become very popular.
"What kinds of B-Grades are there?"
The majority of B-Grades have small discolorations or cosmetic blemishes from the anodization process. These are known as "C-Types," whereas yo-yos that are not perfectly balanced and have some vibes are called "V-Types." Some may have both types of imperfection; it's always good to double check
Important Points:
B-Grades are outlet products because for one reason or another they haven't met the maker's standards for their products, things to look out for include:
-color imperfections, finish may look dull or scratched
-bearing or response pads aren't well installed or working properly. Often, switching out these parts will address these issues.
-Bearings or pads may differ from the standard product model.
-Artwork or logos may differ from the standard model.
-Other issues may exist, but nothing so bad as to make the yo-yo unplayable.