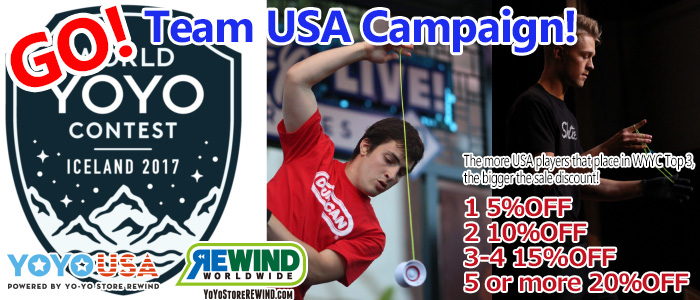 The 2017 World Yo-Yo Contest will take place this weekend in Reykjavik, Iceland! Though it may be far from the good ol' U.S. of A., many American players have made the trek north to face the rest of the world in hopes of taking home the top prize. Among them is YO-YO USA's manager, Zac Rubino, who will be fighting it out in the 4A Division. Let's cheer for Team USA! 🇺🇸
In support of our players, we will have a flash sale after all the final results are in. We will increase the sale discount amount for each player from the USA who places in the top 3 of the championship divisions!
1 5%OFF
2 10%OFF
3-4 15%OFF
5 or more 20%OFF
Sale Period:
From Monday, August 13th, 11am –until– Tuesday, August 14th, 11 am (Japan Time)
(Ends)
Monday, August 13th, 7pm PDT
Monday, August 13th, 10pm EDT
Tuesday, August 14th, 2am GMT
(Campaign available on YO-YO USA and REWIND Worldwide)
Let's cheer on our favorite players over in Iceland! May the best win!