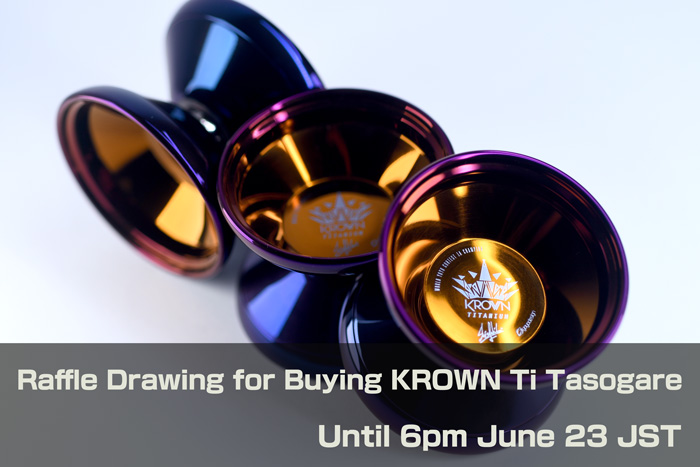 C3yoyodesign's new premium model "KROWN Ti Tasogare"
KROWN is Shinya Kido signature model and KROWN Ti is titanium version. This Tasogare (Twilight/dusk) version is a special coating limited run.
We're having a raffle drawing to purchase the very limited Krown Ti Tasogare Edition. Very few pieces are available, so to make the release fair as possible for everyone, we will hold a raffle drawing for the chance to buy it. (Of course, only winners need pay, so don't worry!)
Product page for KROWN Ti Tasigare
https://yoyostorerewind.com/en/krown-ti-tasogare.html
Submission Period
Until 6pm June 23 JST
We only contact to the winners
We will email the link for purchase to the email you submit within 6 hours after the deadline above. If you do not receive the email by the end of June 23 (Japan Time), this means you did not win. Thank you for your understanding.
If you wish to purchase one, please submit the form below.
Caution:
This coating is very hard to apply and there are many small spots on the surface. Also the number are very limited and inspected by C3 core staff members. The condition of the yo-yo will be as they are. We cannot take any return or exchange for any condition or cosmetic issue of this yo-yo. They all passed C3's inspection and release as A-grade. Thank you for your understanding.

We will send a special link to the winners. We check the matching with the application name/address and order name/address. Please submit the form as purchaser not with your friend name.
You can buy only 1 pc for 1 winner.