Hot Topic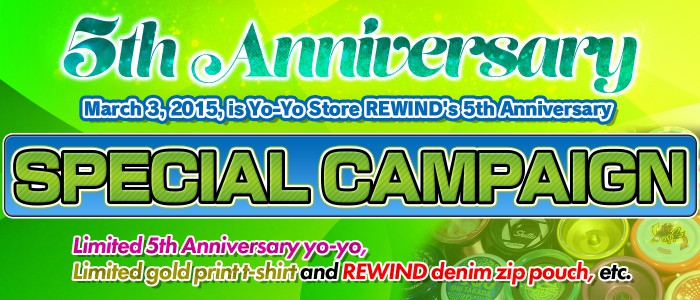 5th Anniversary Campaign
March 3, 2015, is Yo-Yo Store REWIND's 5th Anniversary!!!
We truly owe it to all of our customers for helping us make it through these five amazing years. Thank you as always for your business and support!
And thus our 5th Anniversary Event begins! This time we're having several different campaigns so check out the details and be sure not to miss out!
Full Event Period: From February 20th (Friday) until March 9th (Monday) at 13:00 Japan Time
[For orders of $100 USD or more during the Event Period]
– Present! Each order of $100 (before shipping) or more also gets a free REWIND denim zip pouch (starting 2/21 until they're gone!)
[Setting Campaign]
– C3yoyodesign KROWN prepared by Shinya Kido to his usual setting, on sale! (2/20 until 3/9)
[Campaigns applicable with Every Order during the Event Period]
– Present! Free REWIND Badge with every order (starting 2/21 until they're gone!)
– Present! Free Coupon Code with every order (2/21 until 3/9)
– Raffle Entry to win a limited REWIND 5th Anniversary commemorative yo-yo (2/21 until 3/9)
– Raffle Entry to win a signed photograph of a top U.S. Yo-Yo Player (2/21 until 3/9)
[Buy a REWIND "A LIFE WITH YO-YO" T-shirt during the Event Period and…]
– Be automatically entered in a raffle to win a limited gold print t-shirt! (2/21 until 3/9)
New Arrival
Top News