Hot Topic

Just like the campaign name implies, we want to hear what you think about your favorite yo-yos.
Good product reviews can be very useful, and help other players decide which new yo-yo to pick up. There's a function on the REWIND website where you can contribute your very own product review. Up until now, very few people have used this feature so we thought we'd provide an incentive to get you going.
Simply, write a yo-yo review and tell us what you think, then win a prize!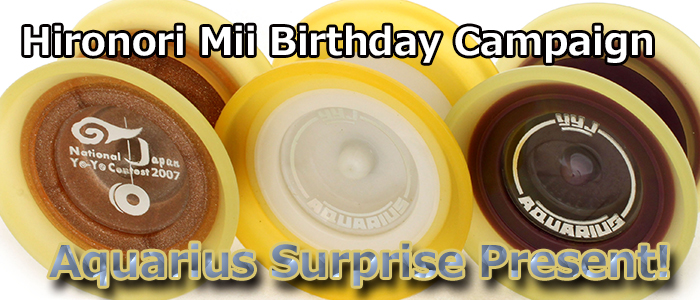 YoYoJam [Aquarius] Surprise Present!
The Aquarius is an already discontinued model. For those who do not know, at one time almost all off string players used the Aquarius as their model of choice at the World Yo-Yo Contest and National Contests worldwide.
The three Aquarius yo-yos Hiro is offering to the campaign are from his own personal collection. For the most part, they have barely been used and are in an almost new condition, however, because they have been kept in a box as dead stock, there are some cracks in the plastic, as well as some discoloration. These Aquarius yo-yos would be a special addition to your yo-yo collection.
New Arrival
Top News