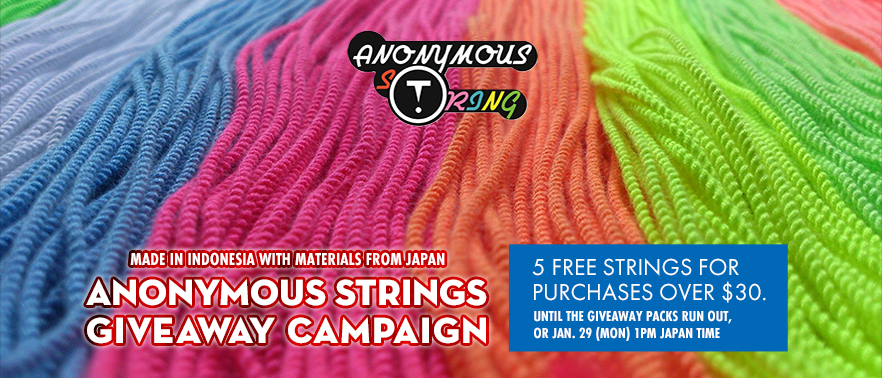 In 2018, we are proud to introduce a new string brand "Anonymous Strings" that we just added to our lineup. The strings are made in Indonesia with materials from Japan.
Regular Fat (Lime Green)
Less Tension Fat (Yellow)
Less Tension Thin (White)
Regular Type has a strong string tension (twist) and flies well when you swing it. It is great for Laceration and Hook type tricks.
Less Tension Type is closer to the feeling of current popular competition strings. It has a softer feeling, yet the string flies well. It's a good, balanced string.
Thin is good for looping yo-yos.
Anonymous Strings' feeling and play are different from what we have carried before. We liked them so much that we want everyone to have a chance to try them, so we are having a giveaway campaign!
What: A free 5-string Test Pack (one of three types will be included randomly)
Who can get it: Customers who buy more than $30 in one shipment.
When: From now until the giveaway packs run out, or Jan. 29 (Mon) 1pm Japan Time
Note:
We will choose the type randomly.
Maximum one pack per shipment. Even if you order more than $60, we will still only include one pack.
Enjoy trying out some great new strings from Anonymous Strings, and while you're at it you may discover a fresh new play feeling.