Our best selling starter yo-yo has been the YoYoFactory SpinStar ever since its release in Summer 2016.
We had a blank version of SpinStar made recently, and we found that it is a perfect yo-yo for getting famous players' autographs.
At the 2017 World Yo-Yo Contest, we set out to get many top players' autographs on those SpinStars.
Then we thought, why hold on to them and let them collect dust when we can share them with you! We will hold a random drawing giveaway for these SpinStars for our customers who meet the entry conditions and apply through the form below.
[Conditions to Apply]
Place an order over $200 within the campaign period and submit the form with your order number.
*Both your order and submitting the form must be done within the campaign period.
*If you make several orders over $200 during the term, you can apply multiple times (once per each qualifying order).
[Prize]
Autographed SpinStars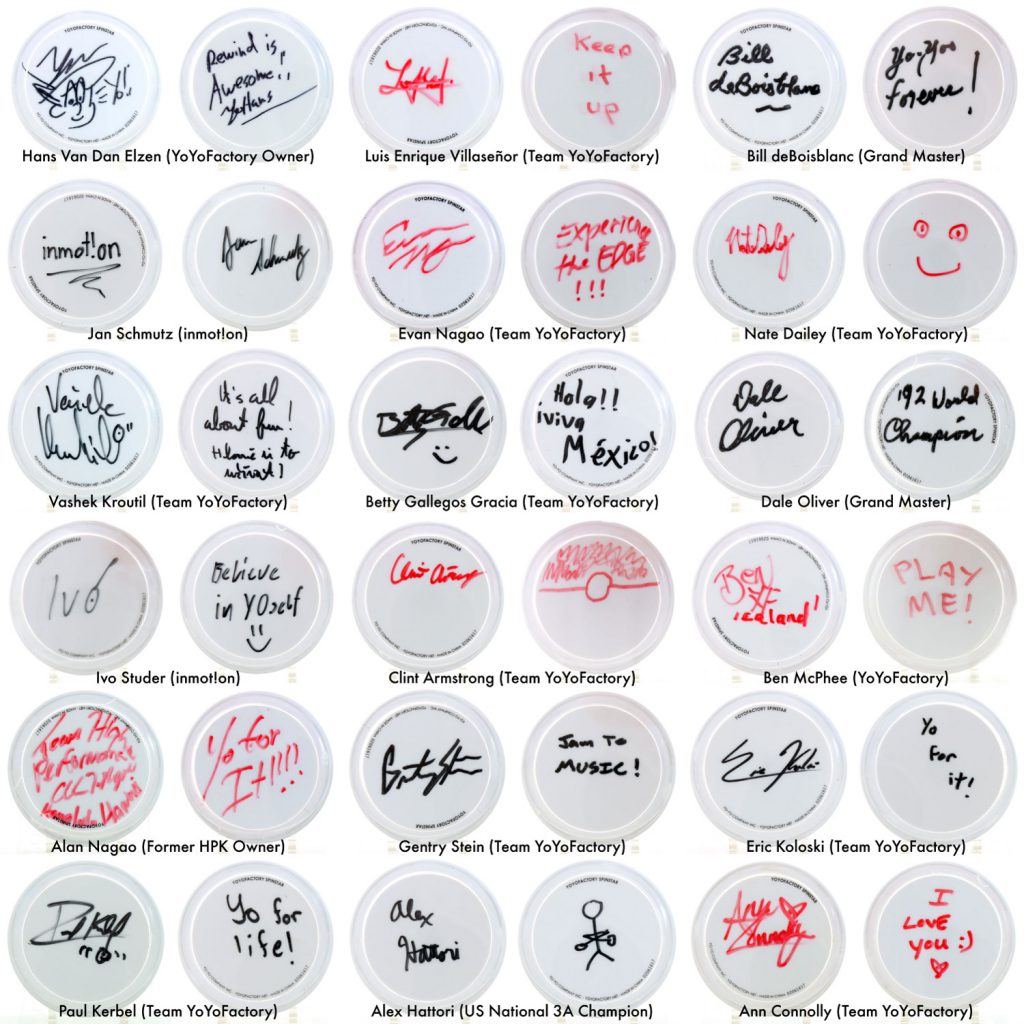 Hans Van Dan Elzen (YoYoFactory Owner)
Luis Enrique Villaseñor (Team YoYoFactory)
Bill deBoisblanc (Grand Master)
Jan Schmutz (inmot!on)
Evan Nagao (Team YoYoFactory)
Nate Dailey (Team YoYoFactory)
Vashek Kroutil (Team YoYoFactory)
Betty Gallegos Gracia (Team YoYoFactory)
Dale Oliver (Grand Master)
Ivo Studer (inmot!on)
Clint Armstrong (Team YoYoFactory)
Ben McPhee (YoYoFactory)
Alan Nagao (Former HPK Owner)
Gentry Stein (Team YoYoFactory)
Eric Koloski (Team YoYoFactory)
Paul Kerbel (Team YoYoFactory)
Alex Hattori (US National 3A Champion)
Ann Connolly (Team YoYoFactory)
[Whose autograph?]
We will choose the drawing winners, and the order of the drawing will determine who gets first preference; for example, the first winner will get his/her first choice. If you are chosen but your three wishes are already taken, we will give you one randomly.
[Campaign Period]
October 2 – 18
[Result Announcement]
End of October