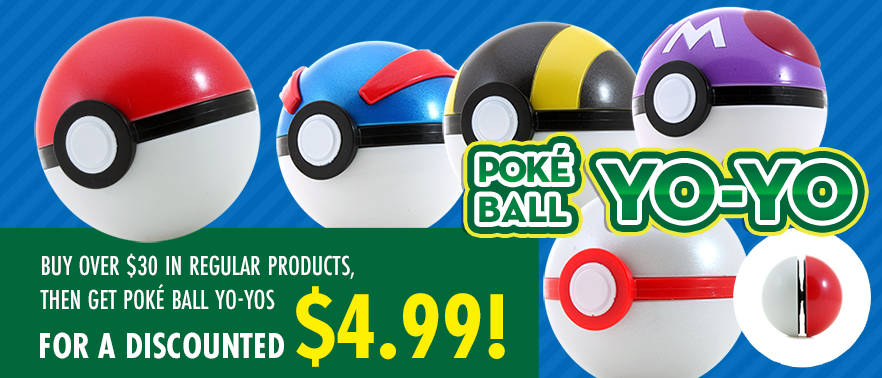 So I herd u liek return topz!
Congratulations! Your POKÉ BALL evolved into YO-YO.
Thanks to the awesome toy makers in Japan, we now have yo-yos shaped just like Poké Balls, the monster capture item from one of the most popular game series ever, Pokémon! With five authentic types to choose from, you just know you gotta' catch 'em all!
These official licensed yo-yos are usually only available in Japan from a capsule vending machine. We got them from the source to bring them straight to Pokémon (and yo-yo) fans from Kanto to Unova, Kalos, Alola and beyond!
All it takes is one look at these beauties to see that they are very good looking Poké Balls for being such an inexpensive toy. The yo-yo itself has a plastic spool inside and is playable for some basic tricks.
But wait…A wild DISCOUNT appeared! MEOWTH used Pay Day. It's super effective! If you buy more than $30 worth of products (excluding shipping, tax, and Pokeball yo-yos), the price of Pokeball yo-yos will be reduced to $4.99 each, discounted from the original price of $9.99.
*If you meet the conditions, the discount will be applied automatically to your shopping cart.
These yo-yos are fun to play with, and so stinkin' cute. Don't be a Slowpoke. Get yours while our supplies last!